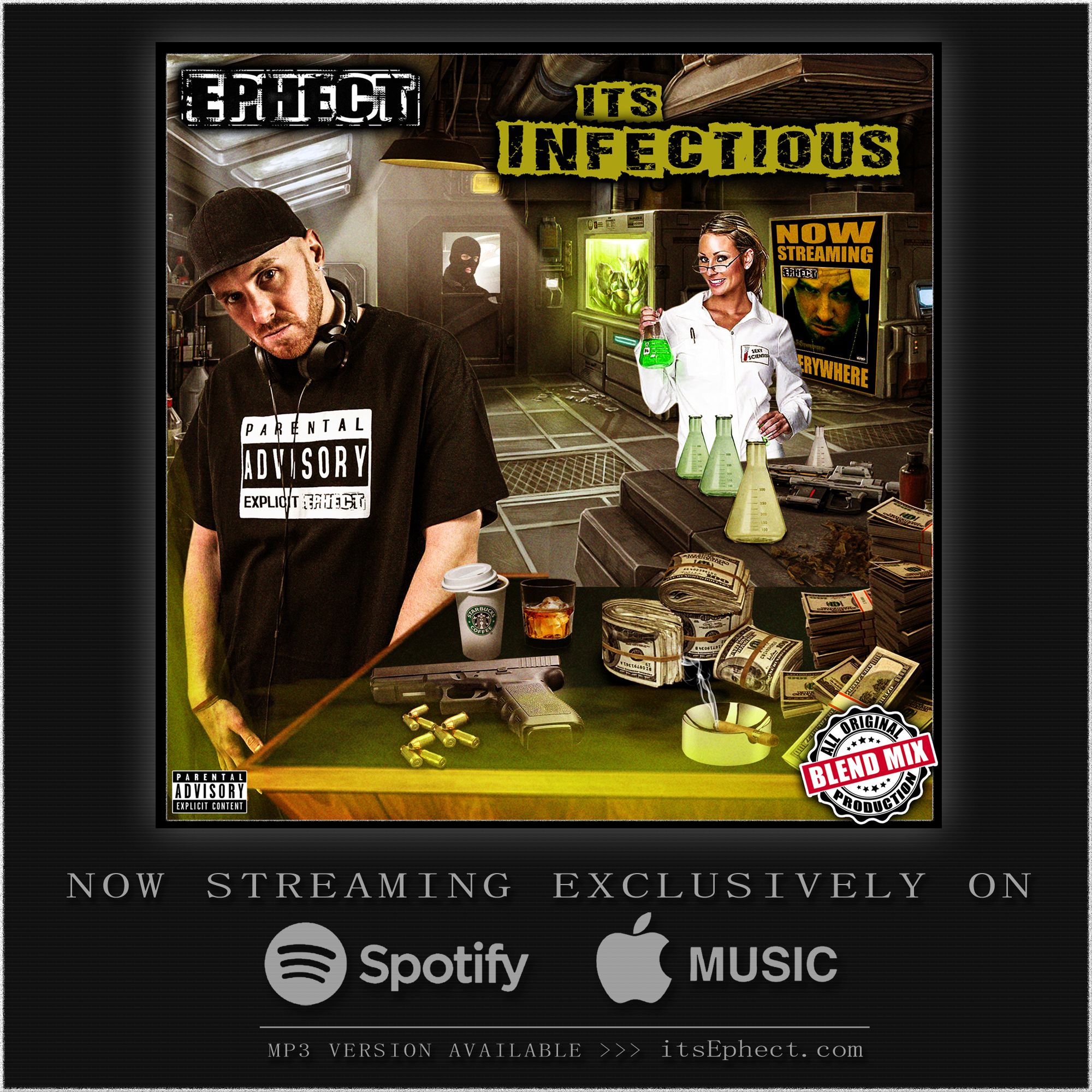 For years, I've always liked Blend Mixtapes and when the DJ would take 2 or 3 songs/beats and overlap them together to create somewhat of a cool and interesting Remix... Even tho, it seems like that era is maybe dying down. But they still do exists! 
Friday MAY 24th, I am releasing a project titled "its Infectious" 
This is a 30 minute mix of nonstop music and beats from Ephect.  An ALL Original Production Blend Mix. The mix contains songs from my previously released album "the Nphection" (now streaming everywhere)  + along with a couple other songs not featured on the album. 
I had to figure out a way to create a Blend Mix that the Streaming Platforms such as Apple Music, Spotify, etc would allow. So I decided to use ALL original Production. Beats produced by Myself or producers affiliated with Ephect, LLC (such as Nick J, etc)...  IF I would have used well known beats and production from Big name artists & producers, the platforms would have rejected it for Copyright infringement... So I found a way to work around those issues and put this project together!
Im very excited about this project and release for your Summer 2019. This mix is a great for car rides, workout sessions at the gym or just sitting back listening at the house.  This is definitely a different kind of release for Streaming services. I am NOT claiming that I am the originator of Blend Mixtapes. Its has been around since the beginning of HipHop and Rap. But as far as an All original Production Blend Mix allowed directly on the Streaming Platforms these days, I could be one! :) 
I've decided to release "its Infectious"  Exclusively on SPOTIFY and APPLE MUSIC only...  There will be an option for a MP3 Download version directly on my website  itsEphect.com  available for a couple dollars, if you would prefer to have a Downloaded MP3 version to put on your computer, burn to CD or whatever. Or if you dont use SPOTIFY or APPLE MUSIC... Plus those couple of dollars would go directly to me and help support my website maintenance. Below is the artwork and Ad for the release!
Check out "its Infectious" NOW STREAMING on SPOTIFY and APPLE MUSIC - or CLICK HERE to purchase the MP3 version for $2.99 directly on itsEphect.com